WELCOME TO CORVALLIS
The perfect weekend retreat for nature enthusiasts, Corvallis is tucked in the Willamette Valley and features stunning views and quaint main street charm. Explore for yourself with the Corvallis Savings Pass and get special discounts on tastings at local restaurants and distilleries plus one-of-a-kind independently-owned shops throughout the city.

Everything you experience in Corvallis is unique, which is why we encourage you to focus on making memories this trip instead of feeling guilty about the price tag. Download your Savings Pass now to experience enticing flavors and one-of-a-kind finds that showcase exactly what locals love about the city with the added bonus of special discounts that are just for visitors.

See what's included!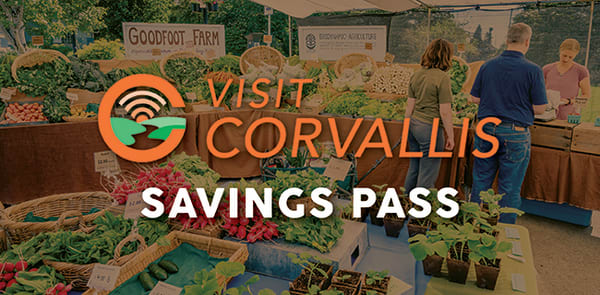 Sign up
Instantly delivered via text and email
Mobile exclusive
Save on the best of Corvallis